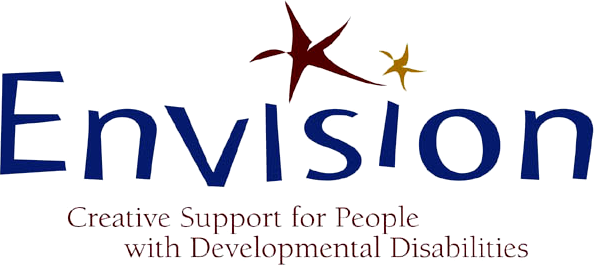 Envision is the nonprofit Community Centered Board (CCB) serving Weld County, one of 20 such entities in the State of Colorado. Every year, Envision provides case management and a diverse set of person-centered services that support more than 2,800 children and adults with intellectual and developmental disabilities or delays (IDD) and their families in Weld County. Envision is dedicated to providing programs and services that promote inclusion based on person centered practices focused on full participation in home and community life.
Through in-house programs and contracts with a network of over 160 provider agencies, professionals, community businesses and other services, Envision facilitates a comprehensive support program in a broad spectrum of settings, including the person or family home, 24-hour on-site staff, scheduled support staff, host homes and group homes.
Services may include the provision of living environments, therapies, transportation related to services, medication administration and monitoring, ancillary medical care, meal preparation, daily living skills, personal care, access to community services, interpersonal relationships, recreation and leisure activities, group and individual supported employment, adaptive equipment, home modification, and more.
Below are a few more ways that Envision's services help Colorado:
Helps infants and toddlers with developmental delays catch up with their peers
Keeps children at home with their families instead of being placed in out-of-home locations
Assists adults to live a life of their own design, supports adults so they can work and volunteer in their community
Provides cost-effective care for people whose families can no longer care for them
Saves taxpayer dollars by arranging for targeted assistance to prevent a negative chain of events
Allows parents and families to remain stable, employed and on private health insurance
Provides Early Intervention to help infants and toddlers with developmental delays catch up with their peers
and so much more… VISIT OUR MAIN SITE TO LEARN MORE!